I know this is going to sound silly. But here goes: I followed the instructions on Meta's site about ordering the Lucky Packs. The only problem is when I sent the e-mail I ordered 2 of each. Now I only want 1 of each. Can I pay them for just one of each? I'm paying via paypal and they ask you to put all this information in the payment like how many lucky packs you ordered (please see the reply message from Meta below). I'm hoping only paying for one won't void my order. Does anyone have any idea if they ship based on who has paid or if it is based on the original e-mail? Thank you for your help, all! And happy holidays!


"Hello. Thank you for your Winter Lucky Pack order.
Your order was accepted.
Please access to the PayPal web. (https://www.paypal.com/)
And send your order amount to Metamorphose PayPal account;
The ''E-mail Subject'' of PayPal must be ''Winter Lucky Pack (your name)''.
And on the ''Note'', please write how many Winter Lucky Pack you ordered.
About the order amount, please look at this page.
(http://www.metamorphose.gr.jp/english/_gogo_lolita/news/m-metamornews195.htm)
* If you do not purchase in a week, your order will be canceled. Be careful!!
* We don't ship Winter Lucky Pack and other products together.
* We don't accept any cancellation of order.
* We don't accept any return or exchange except defective product.
* Winter Lucky Pack will be shipped out after January 6th (Tue) 2009 due to the high volume of orders."
here
.
I know there are tons of postings, but I found all of them helpful and I hope others will find my info helpful too. So here goes:
Rating from 1 to 5 (1 being awful and 5 being superb)
1. Website navigation and check out process (including paying): 2
I initially tried to order 3 items from them on 11/18. I kept getting an Error Code Message 10417 - which from the threads I've read, is a common problem. Apparently, it had nothing to do with my credit limit or with not having enough money - it appears to just be a glitch with their system. So, I just kept trying and trying until I managed to get my payment through.
2. Shipping and Handling: 3.5
Costs were ridiculous at first, $68 for 3 items! When the items arrived, I realised why it was so expensive - the jacket weighs about 4 - 5 pounds (2kg) by itself (but it says so in their description).
Turn-around time was quick and shipping was super speedy for coming from Japan - Ordered on 11/18, item was shipped on 11/20 (Japan Time) and delivered to me on 11/24
3. Overall Quality of Items: 3.5
Details of the items and the quality:
Jumperskirt - g413 $44
Quality:
5
The dress is beautiful once pressed. The accompanying bow, however, is way too big and the little comb hot glued to it is useless, so with some coercing, I peeled it off. On, the bow has a very Minnie Mouse look to it - I was not too thrilled about the bow.
The quality of the fabric on the dress and the bow is quite good for only costing $44. It is a very thick cotton broadcloth. The lace feels like a thick cotton and is similar to doily - but that is not a bad thing. The bows on the front are detachable (pin). The actual colour is darker than what is shown in the picture but only a shade or 2 darker. All in all, a very nice dress and much cheaper than a Camden Market knock-off (which I admit to owning a few that cost between £20-50 which is well over $40 - 90 USD after the conversion).
If you bought an equivalent quality or better fabric and tried to make your own, the cost of the fabric and lace would be more than what the dress cost, so overall, this was a great buy and I highly recommend it.
Coat - g696 $111
Quality:
2 - 2.5
The coat looked beautiful online, but the picture is deceiving. Of course the colour is darker; it's more of a bubblegum pink than the pastel pink that is pictured, but that was not my main concern. When I called my husband to ask him to open the package and examine the contents he described the coat as being made of blanket material. He was not wrong - the material is a cheap fleece/polyester blend. And that is also the reason the coat is so heavy. On top of that, the coat smells like plastic and I can't get the smell out. I've tried steaming and "Febreeze" with anti-microbial, but I think the coat absorbed the odours of the packing material. It's a very chemical smell. *Tips anyone?* Aside from these two flaws, from afar, the coat looks decent, it is fully lined with satin/polyester, the fur is nice and the lace is the same quality as what is on the dress - small pluses. But I don't think I'll be wearing it until the smell leaves. In comparison to the coats I purchased from Camden Market at G.L.P. (Gothic Lolita Punk) for £40 and £55 were much better quality than this one considering the price. I don't think I would recommend this coat to others, at least not for $111.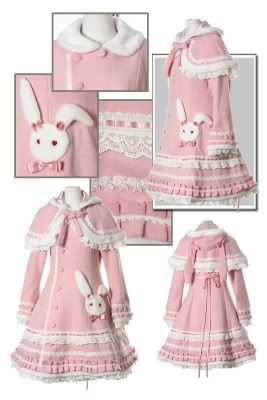 Bloomers - gothic146 $22
Quality:
3.5 - 4
The bloomers are made of a nice poplin and the lace is nice. My only problem is the shapelessness of it and that the lace sort of itches around the leg opening. And pardon my idiocy, but I didn't realise the frilly bit was supposed to be in the back. However, overall, they are a nice pair of bloomers but, I think I'll work on making my own from the pattern in Gothic & Lolita Bible vol. 29.
I would recommend these bloomers only if you do not feel like making your own or you do not feel like spending $70 - $90 for a brand name pair.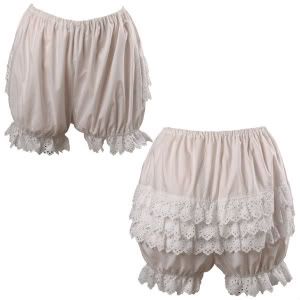 *Please note, all the items had that weird plastic smell that the coat had, but I managed to get the smell out of the dress by steaming it and the bloomers by washing them. Has anyone else encountered this problem? Any suggestions on getting the smell out of the coat?
Oh and btw, apparently, Bodyline doesn't have EMS shipping as an option right now (correct me if I'm wrong), so I will not be buying from them. Especially after reading this poor customer's post about Bodyline and DHL
community.livejournal.com/egl/12612561.html
and with my own personal experiences with DHL.
Overall rating: 3.5
My Bodyline purchases were nice, but I don't think I'll buy anymore things from them. I would definitely recommend Bodyline to people on a budget for Lolita clothes. You really can't find such decent dresses for decent prices.
If you have the money, buy the brands because the quality of the fabric and the cut is worth the money.
I'm pretty content with my small collection for now. I'll try and put up pictures that of the actual items at some point. Thanks for reading and thank you for sharing your thoughts.
Cheers!
Posted to EGL